Northern Ireland economy: 1% growth predicted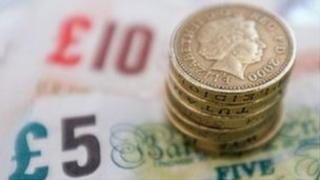 The financial consultancy, EY, has forecast that the Northern Ireland economy will grow by 1% in 2013.
That represents a jump on the growth rate of just 0.2% it predicted earlier this year.
EY said the revision reflects an improving labour market and stronger than expected growth across the UK.
The firm also forecast 2% growth in 2014, up on the 1.7% it predicted earlier this year.
However, it warned that Northern Ireland's economy remains "extremely vulnerable" to the impact of "more and tougher austerity" planned by the UK government.
EY also warned that unlike the Republic of Ireland, Northern Ireland will not be able to export its way out of recession.
It said that with the exception of the agri-food sector Northern Ireland, "lags far behind the Republic in terms of the scale of its export base" and in terms of its "footprint in key export markets outside Great Britain".
EY's winter forecast also predicts that the Republic's economy, as measured by GDP, will shrink by 0.2% in 2013 before growing by 1.6% in 2014.
For the island as a whole, EY has downgraded its 2014 and 2015 growth forecasts to 1.7% and 1.9%, compared to 2.1% and 2.5% respectively in the summer forecast.
Neil Gibson, economic advisor to the EY, said: "We can finally report 'green shoots' of recovery in the all-island domestic economy.
"Exports have done their best to prop up the island economy and have made a sizable contribution to GDP."
He cautioned that the labour market is only likely to see a modest recovery in the coming years.
"Full-time employment levels across the Island have only risen in a handful of recent quarters and are still around 20% and 10% below peak for the Republic and NI respectively," he said.
"The severity of the recession across the island will mean that recovery to peak employment levels will take considerably longer."