Richard Haass to chair all-party discussion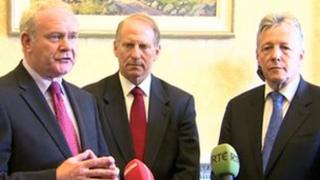 Former US Envoy Richard Haass is due to chair a round-table meeting of the five main Stormont parties later.
Dr Haass is in Belfast for another round of talks about flags, parading and the past.
The US diplomat said he believes agreement on the way forward is achievable before Christmas.
He is due to return to the United States after the meeting. He will return to Northern Ireland in December for possibly the final phase of talks.
Friday's talks will be the third round of discussions between Dr Haass and the five Northern Ireland Executive parties.
This week, Dr Haass met the Bloody Sunday relatives and other groups in Londonderry, while his team held talks with the Protestant Orange Order and nationalist residents in Portadown and Belfast.
Some details of his discussions became public, with Sinn Féin choosing to reveal its written submissions.
BBC Political Editor Mark Devenport said: "The furore over the attorney general's comments on ending Troubles' prosecutions emphasised the scale of the task facing Dr Haass when it comes to brokering agreement on the past."
Dr Haass began chairing the talks in September. He served as US envoy to Northern Ireland from 2001 to 2003. He was chosen to chair the discussions by the first and deputy first ministers.