Parole Commissioner criticised over Marian McGlinchey plea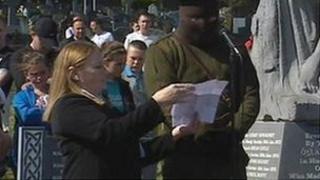 Northern Ireland's Chief Parole Commissioner has been criticised for appearing before Stormont's Justice Committee without knowledge of guilty pleas made by Marian McGlinchey.
Christine Glenn said she was unaware the Old Bailey bomber had pleaded guilty to two offences.
The pleas were entered more than two hours before Ms Glenn came to the committee.
Ms Glenn said she had been travelling and her phone had been switched off.
McGlinchey had admitted providing a mobile phone linked to a Real IRA Massereene attack in 2009 in which two soldiers were murdered.
She also pleaded guilty to charges related to a separate incident at a dissident republican rally in Londonderry in April 2011.
Rule 22
The DUP's Jim Wells raised the matter in a discussion over what advice was supplied to the Northern Ireland Secretary of State in order for the licences of former prisoners to be revoked.
Marion McGlinchey, also known as Marian Price, was convicted along with her sister, Dolours Price, for their part in an IRA car bomb attack on London's Old Bailey courts in 1973.
McGlinchey was released early from prison on licence, but it was revoked in May 2011.
She was released from prison on May 2013.
Mr Wells said he wanted to "quiz" the commissioners on the case but due to Rule 22, a Parole Commission ruling that prevents the discussion of individual cases, he was unable to.
In response to a question from Sinn Féin's Rosaleen McCorley, Ms Glenn said she would like to see Rule 22 looked at.
"I think it's time it's reviewed - not necessarily abolished - I think we need to look at the potential solutions," she said.
Without knowing to whom the members were referring, and without referring to any named case, Ms Glenn said she would "clearly consider" an apology if they had been found to have got a decision wrong.