Patients as young as 20 die from liver disease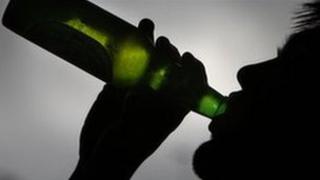 Patients as young as 20 have died from liver disease caused by excessive drinking in Northern Ireland.
A senior doctor at the Royal Victoria Hospital, Belfast, has said excessive drinking at such a young age has serious implications for the future.
Dr Neil McDougall, a liver specialist, has said things have changed significantly in the last five years.
"Two or three patients in their early 20s have died from end stage alcoholic liver disease," he said.
"The sad thing is that those people were telling us before they died that they started drinking around the age of 12."
Recent statistics show the number of people dying from alcohol-related illnesses has doubled in the last ten years.
They also show the biggest growth area in terms of alcohol consumption and binge drinking is in women aged between 15 and 24.
Dr McDougall says: "It's devastating to watch young people in their 20s die from alcohol liver disease.
"Even people who have cirrhosis and a very damaged liver can stabilise quite dramatically with stopping alcohol," he said.
"As a protection mechanism you tend to focus more on the good stories but we do see a lot more who do badly than do good."
The focus on women and their drinking habits is all about prevention rather than cure.
Alcohol-related cases at the Royal Victoria Hospital used to be exclusively male.
Dr McDougall fears that, unless drinking levels decrease, more and more women will become his patients.
"Seven or eight years down the line maybe we will see more women coming through with end stage alcohol liver disease."
It is hard for teenagers to imagine what life will be like next year never mind when they are in their 20s.
Dr McDougall says the message though is clear: "Unfortunately once you have liver cirrhosis there's no going back from that."