Gregory Campbell criticises BBC for stance on housing inquiry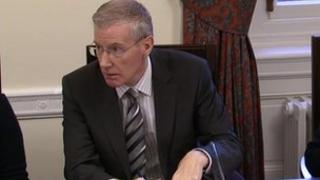 A DUP MLA has criticised the BBC for saying it would not give evidence to an inquiry into allegations broadcast in a BBC NI Spotlight programme.
The programme alleged there had been political interference in the running of the Housing Executive.
Stormont's social development committee is investigating the claims.
Gregory Campbell told members of the committee that the BBC had been invited to participate, but had effectively said "we are not going to come to you".
He said that the BBC's written response was "a matter and cause of great concern to me and my party", and that he expected the BBC to come and give evidence.
He added: "Had there been no BBC Spotlight programme we would not be having an inquiry."
Mr Campbell also criticised the BBC's reporting of the start of the inquiry last week and said the DUP had lodged a complaint with the corporation.
Committee chairman, Sinn Féin's Alex Maskey, said the BBC "is a key component of this inquiry".
'Safeguards'
He instructed the assembly's legal team to examine the BBC's letter.
A BBC spokesperson said: "We will seek to facilitate to the fullest extent possible any requests made by the assembly's social development committee in relation to this inquiry.
"BBC involvement must be consistent with the requirements of law and the need to protect proper journalistic freedoms and safeguards.
"These include protecting the confidentiality of journalistic sources. We have explained our position to the assembly's committee."
She added: "We are committed to providing BBC audiences with full and fair coverage of the DSD inquiry across our radio, television and online services."