Haass continues NI peregrinations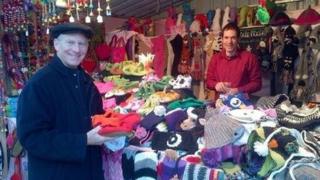 Richard Haass and Meghan O'Sullivan are continuing their travels around Northern Ireland.
On Wednesday, they were in Londonderry, Portadown, the Orange camp at Twaddell Avenue in Belfast and a Christmas shopping stop at Belfast's continental market.
Amongst other events on Thursday, the Haass team is meeting the nationalist Greater Ardoyne Residents Collective in north Belfast.
As Dr Haass continues his peregrinations, so this blog will keep open its invitation to anyone who wants to publish their Haass submission to provide me with a link.
So far we've had Sinn Féin, Residents for Justice and the loyalist Jamie Bryson.
Today we can add this submission from the United Protestant Voice, which argues that the Union flag is not negotiable, and demands official apologies from Martin McGuinness, the US government and the Irish government for their roles in the Troubles.
So that's four submissions down, only 496 to go!
Keep them coming via @markdevenport on Twitter or my email address, mark.devenport@bbc.co.uk