Inquest into stillbirth of Axel Desmond in Derry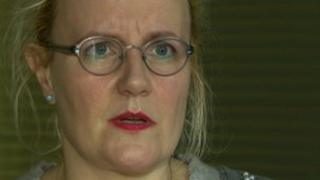 The Court of Appeal in Belfast has given the go-ahead for an inquest into the stillbirth of a child.
Axel Desmond died in Altnagelvin Hospital in Londonderry in 2001.
His mother, Siobhan, went into labour two weeks after her due date. A foetal heartbeat was detected until shortly before the stillbirth.
Siobhan said she had been left traumatised by the experience but has spoken of her relief that an inquest will now be held.
"I went from a healthy person to being destroyed," she said.
Earlier this month, Attorney General John Larkin said an inquest should be held because an actual death occurred.
John Larkin said the legal requirements for a coroner's inquiry were met as Axel was capable of being born alive.
Although Mr Larkin directed an inquest be held into his death, the coroner refused last year on the basis that it went beyond his legal powers.
Lawyers for the attorney general sought to judicially review his decision, arguing that the Coroners Act (Northern Ireland) 1959 contains no clear prohibition.
But counsel for coroner John Leckey claimed the legislation only covers death after a live birth.
Earlier this year, a High Court judge dismissed the attorney general's case after setting out the potential ramifications in other areas such as abortion, stem cell research, IVF and cloning.
Mr Larkin appeared in person as part of an appeal against that verdict.
The attorney general contended that the 1959 Act clearly envisaged an inquest being held into the demise of a foetus in utero capable of being born alive.
Such a foetus must therefore fall within the definition of a "deceased person", Mr Larkin argued.
Lord Chief Justice Sir Declan Morgan, sitting with Lord Justices Girvan and Coghlin, agreed.
He said: "We are satisfied that the effect of section 18 of the 1959 Act as enacted is that the coroner can carry out an inquest into a foetus in utero falling within that definition."
The lord chief justice also called for guidance on stillbirths issued by the Department of Health to be "reviewed and reformulated as a matter of urgency".
Siobhan Desmond had planned to give birth at home in the city but, after complications, was admitted to hospital where Axel was delivered by emergency caesarean section.
Staff tried unsuccessfully to resuscitate him.
She told the BBC that she had had to focus on her child.
"The one good thing that I could do, whether my body held out or my mind or whatever, was for Axel," she said.
"In a strange way, it's Axel's law, I suppose. So then you had this child, the lowest of the low, he wasn't even a human being, until today. Axel did what he did just by existing and I am so happy."