Policing NI past will cost £190m in five years, says report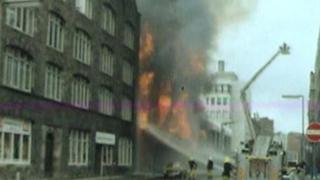 Policing the past will cost criminal justice agencies in Northern Ireland almost £190m during the next five years, a report has said.
The Criminal Justice Inspection said dealing with legacy issues was having a negative impact on how police and other agencies dealt with current challenges.
It warned this could reduce confidence in the criminal justice system.
The report also called for the creation of a special legacy group to deal with the past.
The inspection report comes a day after Attorney General John Larkin said there should be no further police investigations, inquests or inquiries into Troubles' killings before the Good Friday Agreement in 1998.
The report estimated that the cost to the police and other agencies would be £187m over the next five years.
The Police Service of Northern Ireland accounts for more than £132m of that total, with the Police Ombudsman's office accounting for almost £11m and prisons just over £6m.
Chief Criminal Justice Inspector Brendan McGuigan said the police and other agencies, like prisons and the Public Prosecution Service, were struggling to cope.
"Those are the upfront costs, however, there are unseen costs and clearly the criminal justice agencies are under significant pressure in terms of reducing budgets," he said.
"They are struggling to find the money to deliver on the legacy issues and, of course, that is not meeting the needs and expectations of victims.
"The reality is that detectives involved in legacy issues are the same detectives who will be conducting serious crime investigation, child exploitation and the activities of dissident republicans.
"It all comes out of the same pool and the reality is that it's causing significant delays in dealing with legacy issues - that's causing enormous frustration for victims and their legal representatives."
Brendan McGuigan said he hoped talks, being chaired by former US diplomat Dr Richard Haass, may provide a better way forward.
"The current model isn't meeting the needs and expectations of victims in the way that it should, so there is an opportunity, I think, in the Haass talks to consider how best this should be done," he said.