Darkley attack: Justice will be done, says pastor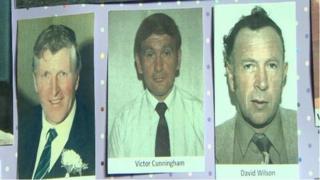 A County Armagh pastor has said he believes justice can still be done 30 years after a gun attack in which three members of the church were killed.
Pastor David Bell was recalling the 1983 attack at Mountain Lodge Pentecostal Church near Darkley.
No-one has been convicted over the attack.
It was claimed by the Catholic Reaction Force, a cover name for the Irish National Liberation Army.
The men who died were David Wilson, Harold Browne and Victor Cunningham.
Pastor Bell of Mountain Lodge Pentecostal Church said after the opening hymn there was "what sounded like the sound of pebbles being thrown against a window pane".
"All too quickly we realised the church had become the latest target in the Northern Ireland Troubles," he said.
"Within a short period of time, three people were dead and seven others were injured.
"Those who died were committed Christians. Every anniversary brings its own memories.
"Time, folks say, heals and to some extent it does but we remember the events of that evening when three people who were very, very close to us died very suddenly in our midst."
David Robinson, a parishioner, said the three men who died happened to be at the front door.
"They were there to kill anyone. The three men that got killed just happened to be at the front door. They didn't finish with that. They went outside and up the outside of the building with a machine gun... basically trying to kill everybody inside.
Pastor Bell said it was difficult to go back into the church and they tended to meet in another building.
He added: "We believe that justice lies with God in the end and those who perpetrated the acts on that day will one day give an account to the Lord.
"As far as we are concerned justice will be done, whether it's in this life or in the life to come."