Housing Executive overpayments: No evidence of fraud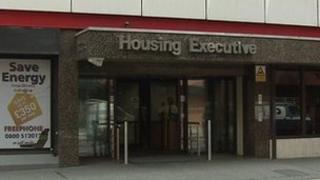 A report into multi-million pound overpayments to Housing Executive contractors has found no evidence of fraud or corruption.
"Various shortcomings" within the public body caused four firms to be paid too much between 2009-12, it said.
The companies deny they were overpaid. An investigation was launched in June.
It followed Social Development Minister Nelson McCausland's comments that a "scandal" had been detected involving overpayments estimated at £18m.
However, the report indicated the sum involved was lower, ranging between £9m to £13m.
Mr McCausland said: "While this remains a substantial amount of taxpayers' money, I am somewhat relieved the level is slightly reduced."
The Housing Executive is negotiating a settlement with the contractors involved.
The report, by a housing consultancy, found the prime cause of the overpayments was the executive's "inadequate management" of what were new types of contracts covering things like kitchen replacement schemes.
The four firms received payments based on price lists, rather than checking actual work done.
"This opened the way to subsequent over, or indeed, under-charging," the report stated.
There was only "light touch" administration of the contracts, something that was accompanied by a significant reduction in frontline Housing Executive staff like quantity surveyors and clerks of works.
The report added: "The current situation appears to be improved, but not yet satisfactorily, with over-charging still possible in some instances."
The Housing Executive chairman, Donald Hoodless, said the organisation's reputation "has taken a hit because of its handling of contracts".
He added: "We must now turn this situation around."
The investigation did not interview or seek evidence from any of the contractors involved.
The companies - Mascott Construction, PK Murphy Construction, Bann Limited and Dixon's Contractors - are critical of the report and have denied they have been overpaid.
In a statement, they claimed a different, "more detailed" investigation showed they were, in fact, owed money by the Housing Executive.
"We have been publicly and wrongly accused of trying somehow to take advantage of our client. The impact on all our business has been immense," they said.
The companies said the other investigation had produced four, unpublished reports, one on each of them, signed off by independent experts.
Their statement said each company was "vindicated" and they were "looking forward to being able to put this behind us".