John Larkin, NI attorney general, 'is nothing if not his own man'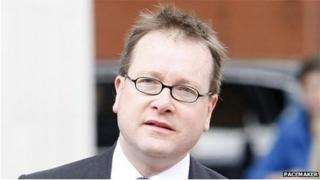 The words cat and pigeons came to mind when my colleague Vincent Kearney first broadcast his interview with attorney general John Larkin proposing a bar on Troubles prosecutions.
Conspiracy theorists wonder whether Mr Larkin is flying a kite for Dr Richard Haass, the Office of the first and deputy first minister (OFMDFM) or the Northern Ireland Office (NIO).
In truth, observers of the attorney general's previous interventions on scandalising the judiciary, abortion or gay marriage will testify that John Larkin is nothing if not his own man.
If anything has influenced the attorney general it is likely to be the build up of pressure within the local judicial system.
On the same day Mr Larkin talked about drawing a line under pre-Good Friday Agreement prosecutions, it was announced that he had himself ordered a fresh inquest into the 1976 Rock Bar killings in Keady - an attack attributed to the notorious loyalist Glennane gang.
This is one of 30 or 40 Troubles-era inquests due to be held.
Mr Larkin was one of a number of senior figures who attended a conference at Queen's University in Belfast in May, at which the Director of Public Prosecutions, Barra McGrory, raised questions about how the resources would be found to tackle both the past and the present.
Mr McGrory said society had to make a choice between "determining that we are going to forego the investigation and prosecution of the past in favour of embedding the political institutions or the peace process", or providing more "significant resources" than he had at his disposal to "cover all criminality from all sides".
Both the former Chief Constable Sir Hugh Orde and the current incumbent Matt Baggott have also talked about the financial pressures policing the past has placed on the PSNI.
But if Mr Larkin has some cheerleaders within the police and judicial systems, then he will not find any solace in the response from politicians, victims' groups and human rights campaigners.
With the exception of the small new unionist party NI21, almost all the Stormont parties have strongly criticised the attorney general's initiative.
The emotional outpouring from victims on either side has echoes of the firestorm which accompanied the suggestion of a £12,000 payment to Troubles victims four years ago.
The general consensus, when the talks chaired by Dr Haass began in September, was that dealing with the past would be the most difficult issue on the agenda.
Mr Larkin's intervention hasn't done anything to change that assessment.
P.s. In my last blog I asked anyone who had submitted written submissions to the Haass team who wanted them published to get in touch. I'm grateful to the loyalist activist Jamie Bryson for forwarding me his submission, in which he argues the Haass talks are "fatally flawed".
If anyone else has a Haass submission we can link to please feel free to contact me via Twitter @markdevenport or e mail mark.devenport@bbc.co.uk