Tassagh fire deaths: Smith brothers admit entering victims' home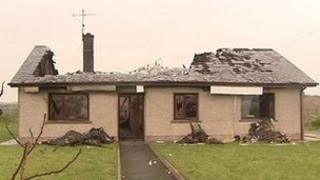 Four brothers accused of a double murder and arson attack have admitted, for the first time, that they were the masked gang who entered the victims' home.
Niall, Martin, Christopher and Stephen Smith deny they murdered Thomas O'Hare and Lisa McClatchey.
Their cottage near Tassagh in County Armagh was attacked and burned in 2006.
On Wednesday, the couple's families heard an "agreed statement of facts" read out by the prosecuting lawyer.
In it, the brothers accept that they were in the house that night. They admit that they wore balaclavas and brought with them three large containers full of petrol and that petrol was distributed throughout the house.
The brothers showed no reaction as the facts were read out, but Martin Smith sat forward in the dock and rested his chin on his hand.
Mr O'Hare and Ms McClatchey were both terribly burned when petrol fumes ignited, causing a huge explosion in the house. They died from their injuries within days.
'Convinced he would die'
All four of the Smith brothers were also burned and required lengthy periods of hospital treatment.
The court heard on Wednesday how Niall Smith had been so badly burned that he had asked a nurse at Louth County Hospital to ring his wife for him as he was convinced he was going to die.
On Tuesday, a forensic scientist told the court that the clothing of both Mr O'Hare and Ms McClatchey had come into "direct contact" with liquid petrol.
He could not, however, say for sure if the petrol had been poured over the couple or if they had, perhaps, fallen or rolled in petrol which had pooled on the floor of the house.
The statement came on the last day of the prosecution's case.
The prosecution alleges that the Smiths' motivation for the attack was to "punish" Thomas O'Hare for a sexual assault he had perpetrated on the youngest brother, Stephen Smith, some 16 years earlier.
Mr Hedworth read a statement from Shauna Finn, the mother of Stephen Smith's child.
She revealed how he had become increasingly agitated by Thomas O'Hare's presence near his home in the months before the fire and had been obsessively protective of their child, telling her she could never let him out of her sight.
Stephen Smith, she said, had struggled for many years to come to terms with what Thomas O'Hare had done to him and had spent some time in a psychiatric hospital in Armagh when he was "16 or 17".
She also recalled the night of the fire and her shock when she saw the extent of Stephen Smith's burn injuries.
She said that, when she got to the hospital, she was told that all four brothers were "critical" and that they weren't expected to live.