Northern Ireland housing market 'continues recovery'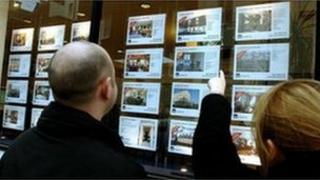 The Northern Ireland housing market is continuing to recover with official statistics showing prices rose during the summer.
The NI Residential Property Price Index indicates prices rose by 2% between the second and third quarter of the year.
It is the second consecutive quarterly increase and means prices are now higher than at the same point in 2012.
The index also showed a rise in the number of sales, which at 4,001 was the highest number since 2007.
It was also a 12% increase on the number sold in the same period in 2012.
The average residential property price is now just under £99,000.
Prices are still 9% lower than at the start of 2005 and less than half of the peak value of the market in 2007.
Suburban Belfast is the most expensive area - the average price is £110,000. All other areas have an average of around £95,000.
More expensive
The research suggests that detached houses are the best performing part of the market with prices increasing for the last three consecutive quarters.
Semi-detached and terraces have increased for the last two consecutive quarters.
Detached houses are 3% more expensive than a year ago, while semis and apartments are slightly cheaper.
The typical detached house now costs £156,000 and the typical semi is £98,000. The typical terrace is £66,000 and the typical apartment is £77,000.
The report states that the latest figures "add weight to the conclusion that the NI property market has bottomed out".
The figures, released every three months by the government's statistics and research agency, are considered the most accurate measure of the state of the housing market in Northern Ireland.