Commissioner: Enact children's rights into NI law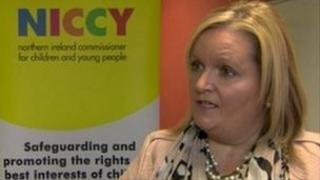 Children's rights must be fully protected by law, the Children's Commissioner for Northern Ireland has said.
Patricia Lewsley-Mooney urged the Northern Ireland Executive to mark International Children's Day.
She wants the assembly to enact the United Nations Convention on the Rights of the Child (UNCRC) into law.
She said if this happened, young people in Northern Ireland would be among the most protected in the world.
"When the office of the first and deputy first minister consulted on the role of a children's commissioner in 2002, they said they wanted to put Northern Ireland at the leading edge of best practice in the protection of children's rights," Ms Lewsley-Mooney said.
"This can only be achieved through incorporating the UNCRC into our law.
"Embedding a rights-based approach to future policy and practice can have a very real impact on the everyday experiences of Northern Ireland's children and young people.
"It will create a culture of value and respect for children and support government to deliver better life outcomes for children."