Challenge over dossier on UVF murder of Bobby Moffett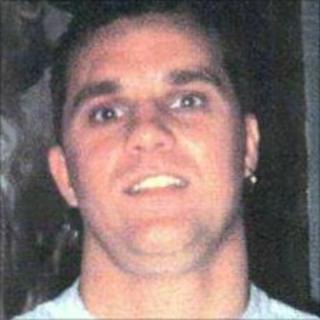 The sister of a man murdered by loyalist paramilitaries has launched a legal bid to get full disclosure of a report on the shooting.
Bobby Moffett was shot dead on Belfast's Shankill Road in May 2010.
The body set up to scrutinise paramilitary activity found that the Ulster Volunteer Force's leadership had sanctioned the 43-year-old's killing.
The now defunct Independent Monitoring Commission declined to say the terror grouping had breached its ceasefire.
The legal challenge has been launched in a bid to have the IMC report disclosed in its entirety to the coroner.
So far only an edited version has been supplied for the purposes of holding an inquest.
Detailed exploration
Mr Moffett's sister, Irene Owens, is seeking a judicial review that would compel the secretary of state to release the dossier in full.
Her lawyers say that anything less undermines the coroner's ability to oversee a human rights-compliant inquest.
It was revealed in the High Court in Belfast that the relevant authorities were not contesting the first stage in the challenge, where an arguable case has to be established.
On that basis Mr Justice Treacy granted leave to seek a judicial review.
He listed the case for a full two-day hearing in March next year.
At that stage, the IMC's findings are expected to be explored in more detail.
In its report the international body described the killing as a public execution.
It concluded that Mr Moffett was murdered to stop his perceived flouting of UVF authority, and to send a message to the organisation and to the community that this authority was not to be challenged.
The court challenge comes amid allegations of continued criminal activity by the paramilitary organisation.
Political representatives and Police Federation Chairman Terry Spence have claimed it is no longer on ceasefire.