McGurk's Bar bomb families to see HET report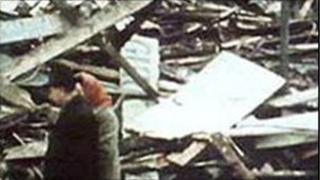 The families of victims of one of Northern Ireland's worst terrorist atrocities will receive a long-awaited report on the killings within two weeks, the High Court in Belfast has heard.
Fifteen people were murdered when McGurk's Bar was blown up by loyalist paramilitaries in December 1971.
A Historical Enquiries Team (HET) review of the police investigation into the bombing was completed last December.
A barrister representing Chief Constable Matt Baggott said a finalised version of the review would be disclosed.
With detectives said to be pursuing further lines of inquiry, its findings were being withheld from relatives of those killed in the attack.
Judicial review proceedings were issued against the chief constable, claiming he has a public law duty to disclose the report without delay.
The legal challenge, brought by Bridget Irvine, whose mother Kitty was among those killed, argued that the ongoing failure to hand the dossier over was irrational, unlawful and in breach of their human rights.
Earlier this month, a judge was told lawyers representing the PSNI were seeking more time to consider whether to release an edited version.
No mentions of redactions were made during the hearing on Tuesday.
A barrister for Mr Baggott said the report might be disclosed to the families within two weeks.
The judge listed the case for a further mention next month. He told counsel for the victims' families: "Everything seems to be moving in the right direction as far as your clients are concerned."