Haass submissions outline issues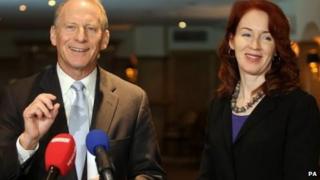 After the publication on Monday of Sinn Féin's submissions to Richard Haass and the BBC's reporting of the submission from the Retired Police Officers' Association, Relatives For Justice (RFJ) contacted me to point out that they too have published their proposals for the Haass talks.
Relatives for Justice represents victims of state violence.
Like Sinn Féin, its document favours an independent international truth commission.
Commenting on the Eames-Bradley proposal for a "legacy unit", RFJ expresses interest in the idea of people being able to make "protected statements", as happened with the Bloody Sunday Inquiry and the Independent Commission on the Location of Victims' Remains.
RFJ says this deserves greater consideration as a "middle way" between offering a widespread amnesty for Troubles crimes and concentrating on trying to bring forward fresh prosecutions.
While the Ulster Unionist Tom Elliott criticised Sinn Féin for publishing its submissions, Dr Haass himself was more diplomatic.
He said it was up to participants to decide when they wished to release their ideas and, in the future, his team might consider publishing more of the submissions they have received.
In its message to me over Twitter, Relatives For Justice pointed out that many families have made their own submissions to the Haass talks.
If any group or individual wants to make its submission public at this stage, rather than waiting for the conclusion of the negotiations, then we will do our best to link to their document from this blog.
Please feel free to message me about submissions either via Twitter @markdevenport or through my email, mark.devenport@bbc.co.uk.