Nelson McCausland questioned over Turkington meetings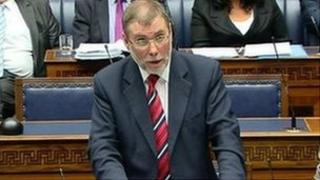 The Social Development Minister, Nelson McCausland, has been asked by Alliance MLA, Stewart Dickson whether he knowingly misled a Stormont committee.
The question relates to a meeting attended by double glazing firm, Turkington Windows.
Last week, senior civil servant Michael Sands told the Social Development Committee he was asked to change a letter about the meeting, which took place in the minister's private office.
Mr Sands said he drafted the original letter about the meeting held on 16 April 2012.
He said that Mr McCausland's private office asked for a reference to Turkingtons be changed to the Glass and Glazing Federation and another company called Fusion 21.
At question time Mr Dickson asked Mr McCausland directly if he had misled the committee over the matter.
Mr McCausland said that it would be "wrong and premature" for him to answer the question. He added that if Mr Dickson would be patient that the information would be available at the next sitting of the Social Development Committee on 12 December, 2013.