Casement Park stadium plan is defended by GAA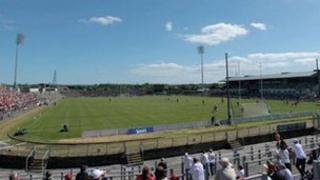 The Gaelic Athletic Association (GAA) has defended its plan to redevelop its west Belfast stadium in the wake of growing opposition from residents.
The GAA is intending to build a 38,000-seat stadium at its existing sports ground in Casement Park.
The association has said that concerns about traffic disruption and noise pollution will be addressed.
But, at a meeting on Monday night, a group of residents claimed their civil rights were being ignored.
About 200 people attended the residents meeting, at which some said that the proposed new stadium must be stopped.
One resident told the meeting: "We're not opposed to a development of the GAA in this city but we need it to be done to the satisfaction of the residents."
Another man said: "The new Casement Park will have as much relevance to the grassroots GAA in west Belfast as the man in the moon."
A woman from west Belfast told the meeting: "We pay our taxes, we live in Andersonstown and a lot of people that are trying to force it through don't live here."
However, Ryan Feeney from the Ulster Council of the GAA said the residents had been listened to.
He told BBC Radio Ulster's Talkback programme: "We've tried now for the last 16 months to build a level of consensus around the stadium project. There is a wide level of support in the wider west (Belfast) and right across this city for the project."
Mr Feeney added: "I can give a cast-iron assurance we will do our best that (residents') concerns are addressed."
He also said that he hoped planning permission for the new £70m stadium would be granted soon.
The MP for West Belfast, Sinn Féin's Paul Maskey, said the development would create employment in the area and concerns about the road infrastructure could be resolved through dialogue with residents.
Mr Maskey also suggested that a number of people from the local residents association could become members of the Casement Park board.