Leisure centre costs double original contract price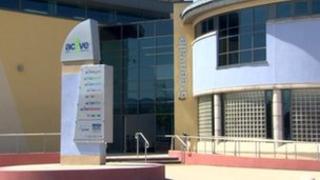 The cost of rebuilding Magherafelt Leisure Centre was more than double the original contract price at £9.2m, a report from the Local Government Auditor has revealed.
The auditor, Louise Mason, said she was concerned whether the Greenvale project was value for money.
Costs increased by 125% on the original £4.1m price because, months into the work, Magherafelt District Council made big design changes without any new economic appraisal.
The report also said there was "no evidence the council had satisfied itself that it was not in breach of procurement regulations".
After the contractor had started work, substantial alterations were made to the project, including extending the swimming pool from 25m to 50m.
The report said the council considered the contractor's rates "very competitive".
However, because of the additional work, the auditor said the council "cannot demonstrate the full project has been subject to competitive procurement and represents value for money".
Greenvale Leisure Centre first opened in 1971.
In 2010 it was demolished and it re-opened in September 2012.
Magherafelt District Council rejected the auditor's report, which it described as "flawed".
In a statement, it said the project was "very good value for money" because of how it compared to work at leisure centres in other council areas.
It said the price per square metre of Greenvale was half that of the new Bangor leisure centre in County Down, which also has a 50m pool.
"When the council received the tenders for the original work the contract came in at over 20% less than expected," the statement noted.
"The council's professional consultants advised the tender rates were remarkably low and that it would be unlikely they would be achieved again.
"It recognised there was only this one-off opportunity to avail of these competitive prices and as a result agreed to extend the scope of this contract."
The council said it had negotiated the price down further and "fails to understand" why the auditor takes issue with actions "clearly in the best interests of its ratepayers".
In her report, Ms Mason also reviewed how promptly Northern Ireland's 26 councils were paying invoices.
She found while there had been significant improvement, the performance of councils "falls well behind" Stormont departments, health trusts and education boards.