Shopper numbers in Northern Ireland stores down almost 10%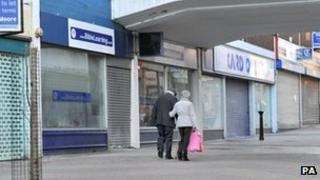 The number of shoppers going into Northern Ireland stores in October is down by almost 10% on last year.
The figure was released by the Northern Ireland Retail Consortium, who also said that vacancy rates rose to 18.5% in October, an increase of 0.5% on July figures.
It expressed concern at the fall so close to the peak Christmas trading period.
In the UK, footfall was down 2.9% on last year and vacancies stood at 11.1%.
Aodhán Connolly, director of the Northern Ireland Retail Consortium, said: "Footfall dropping by nearly 10% would set alarm bells ringing at any time of year, but it's doubly worrying this close to Christmas.
"We're comparing against a strong quarter in 2012, but a drop as steep as this really hits home that conditions remain challenging for customers and retailers in Northern Ireland.
"This quarter's higher vacancy rate adds further to the concern: if action isn't taken soon, we'll be risking a return to last year's record high, when one in five shops stood empty in our town centres."
The chief executive of the Northern Ireland Independent Retail Trade Association (NIIRTA) Glyn Roberts said: "These figures are a serious cause for concern and require radical and immediate action from the executive to ensure that our town centres do not fall further into decline.
"It is truly shocking that not only does Northern Ireland have the highest shop vacancy rate in huge UK, but it now has a very serious reduction in footfall figures"
"We need a new joined up and co-ordinated plan from the executive to address key policy challenges facing our town centres, such as rates, planning, car parking and urban regeneration. We repeat our call for the executive sub-group on the economy to agree this new action plan as soon as possible.
"Unless we see radical action, then more shops and jobs will be lost."