UVF ceasefire over says Police Federation's Terry Spence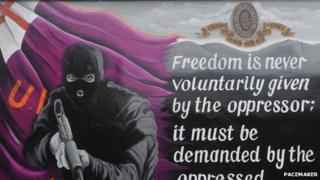 The UVF is not on ceasefire, the chairman of the Police Federation, Terry Spence, has said.
Mr Spence said the loyalist paramilitary organisation was involved in a range of crimes, including "mafia-style activities".
"We've been very clear that when it comes to the UVF, we firmly believe that they are not on ceasefire," Mr Spence said.
"I have made those comments on a number of occasions."
Speaking on Radio Ulster's The Nolan Show, he added: "The UVF have been engaged in murder, attempted murder of civilians, attempted murder of police officers, they've been engaged in orchestrating violence on our streets, and it's very clear to me that there engaged in an array of mafia-style activities.
"They're holding local communities to ransom. On the basis of that, we as a federation have called for the respecification of the UVF (stating that its ceasefire is over)."
'Incredulity'
Sinn Féin's Gerry Kelly said it was clear the UVF was no longer on ceasefire.
"Matt Baggott did come out with a statement, I think last week, where he said the UVF ceasefire was intact. I think it was with incredulity that anyone read the article," he said.
"I've had people into my office, ironically, from the Shankill Road, complaining that the UVF are in charge there as well.
"So I do think they need to take a look at this, I don't understand why Matt Baggott is saying these things."
Speaking at police headquarters on Monday, Assistant Chief Constable Will Kerr said that elements of the UVF, particularly in east Belfast, had been involved in a range of criminal activity, however the issue of respecification was a political decision.