Milk smuggling 'risks livelihoods of NI dairy farmers'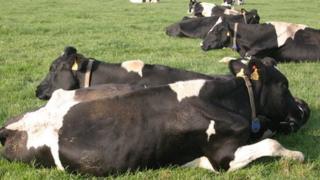 Milk smuggling risks the livelihoods of dairy farmers in Northern Ireland, an industry spokesman has warned.
Dairy UK and the Ulster Farmers' Union claimed EU surplus quota milk was being smuggled from the Republic of Ireland.
Dairy UK's Northern Ireland spokesman Dr Mike Johnston said the practice "jeopardises our dairy product exports, as well as the trust that consumers have in the integrity of our products".
Milk quotas, that help protect farmers' incomes, will be phased out by 2015.
UFU President Harry Sinclair said there was a drive in the Republic of Ireland to increase milk production before the EU milk quota system ends.
"That is already happening on the ground, and they're exceeding their milk quota so there is an excess of milk on the market," he said.
"It would be difficult to trace, but consumers are strong believers in traceability and we don't want anybody undermining that."
Food chain
Dr Johnston said it was the "actions of a few individuals" and urged dairy farmers to be vigilant.
"Facilitating the smuggling of milk into NI jeopardises our dairy product exports, as well as the trust that consumers have in the integrity of our products," he said.
A Department of Agriculture spokesperson said the allegations were "concerning", and anyone offered milk should contact the authorities.
"Dairy farmers here must be concerned that any producer who accepts such milk could potentially be undermining not only the high hygiene standards of our dairy produce, but also the traceability of our dairy produce," the spokesperson said.
"Where evidence of malpractice is found, appropriate action will be taken as the integrity of our food chain is extremely important to a sector which is heavily dependent on export markets."
A surveillance operation is in place to monitor movements of milk, and officials are liaising with their counterparts in the Republic of Ireland.
'Knock-down prices'
Last week, Irish Minister for Agriculture Simon Coveney said the Republic of Ireland was 0.9% over its milk quota at the end of October and warned there was a strong likelihood it could incur a fine unless dairy farmers reduced production.
"This could have very serious financial consequences for affected farmers," he said.
Mr Coveney urged suppliers to "only sell their milk through their usual purchaser in compliance with the milk quota regulations", adding that "to sell through any other channels is an offence".
Kevin Kiersey of the Irish Farmers' Association, which represents farmers in the Republic of Ireland, said he was "aware there have been adverts put into the press in recent days by opportunistic operators offering to purchase over-quota milk at knock-down prices".
"I want to urge dairy farmers under super-levy pressure to resist the temptation to deal with those operators as they are not registered milk purchasers, and they are exposing farmers who sell milk to them to potentially very serious consequences," he said.