Trauma of Filipino community remembered in NI churches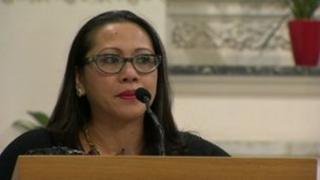 Prayers have been said for the people of the Philippines at a number of services across Northern Ireland.
It follows the recent typhoon that killed more than 3,000 people.
A special service at the St Vincent de Paul parish in north Belfast was attended by dozens of Filipino families living in the city.
A representative from the charity, Trocaire, told the congregation that £145,000 had so far been raised locally for the emergency relief fund.
Dr Lilac O'Hara told the congregation on Sunday: "It is at this time that Filipinos all over the world show unity and solidarity to help our brothers and sisters in the Philippines.
"We are so grateful and so overwhelmed by the outpouring of support and assistance that we have received from people all over the world, from our colleagues, our local community and the local churches."
The United Nations said more than 11 million people are believed to have been affected by the disaster and some 673,000 displaced.