CS Lewis' life celebrated in Belfast festival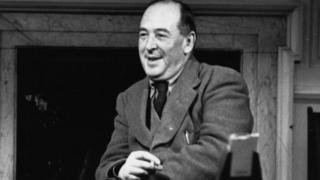 A festival celebrating the life of writer CS Lewis - creator of the famous Chronicles of Narnia - has begun in his birthplace of Belfast.
The inaugural CS Lewis Festival takes place from 18-23 November and has been funded by Belfast City Council.
It marks Friday's 50th anniversary of the death of the renowned author, theologian and academic.
Among the highlights will be Lewis by Lamplight, an enchanted tour of the writer's old school, Campbell College.
A famous lamp - thought to be the inspiration for the lamp in Narnia, where Lucy first met Mr Tumnus - will be officially turned on.
Throughout the week, there will be events commemorating and exploring the legacy of Lewis and his close links to the city that so inspired much of his work.
Festival organiser Wendy Langham said: "CS Lewis is one of those figures that everybody has heard of, but perhaps few realise that he was born, and for a time, was schooled in east Belfast.
"On the 50th anniversary of his death, the CS Lewis Festival seeks to discover and celebrate those connections and invite people to come on a journey with us across the east, and hopefully have a lot of fun in the process."
Among the events will be a reading from Shadowlands by William Nicholson, based on the life of CS Lewis.
An exhibition, Through the Wardrobe, by artist Jonathan Barry will run at the Linenhall Library.
There will be the chance to see documentaries, hear readings and listen to music inspired by Lewis.
A new CS Lewis Trail will be launched during the festival, taking people through east Belfast and the landmarks that helped shaped the young writer's life and work.
Speaking about the festival, Belfast Lord Mayor Máirtín Ó Muilleoir said: "This fantastic programme of events is a great way to celebrate the life of one of Belfast's greatest sons.
"CS Lewis is recognised as one of the most talented authors in the world and has brought our city international acclaim."
The festival has been organised by the East Belfast Partnership,
Lewis was an Oxford University fellow and tutor at Magdalen College. He died aged 64 on 22 November 1963.