East Belfast Alliance Party offices petrol bombed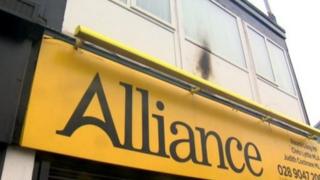 There has been a petrol bomb attack at the Alliance Party office in east Belfast.
Two petrol bombs were thrown at the building on the Upper Newtownards Road at about 22:45 GMT on Saturday.
One ignited on the street and was put out by a passing police patrol. The other did not ignite.
A man wearing a red hooded top believed to have been involved in the incident was seen running off in the direction of Finvoy Street.
The party's East Belfast MP Naomi Long condemned the attack.
"This is not an attack on an individual party or office, it is an attack on democracy," she said.
"There can be no justification for this and there is no place for this kind of violence on our streets."
There have been a number of previous attacks on the building and the homes of Alliance Party members since a Belfast City Council vote on the flying of the union flag at city hall at the start of December last year.
Ulster Unionist councillor Jim Rodgers said: "No-one has the right to break the law and it's time that the people who are behaving in this way stop forthwith.
"We all want to try and move forward regardless of religion, colour, class or creed and that's not going to happen unless people start to wise up and realise that they're only causing more division."
Robin Newton, DUP, said: "This is a built-up area and people in this community do not want to see this kind of activity.
"I want to commend the PSNI for their vigilance and professionalism. Anyone with information regarding this incident should come forward to the police as a matter of urgency."
Daithí McKay, Sinn Féin, said: "Our thoughts should be with Naomi and all the elected representatives in that office and their families. This has a huge impact that people do not realise."
Police have appealed for witnesses to contact them.