Small plane ditches in Lough Erne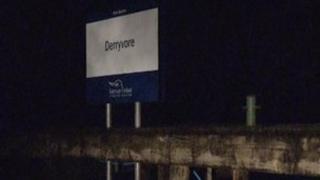 Two men had to swim to safety after their light aircraft ditched in Lough Erne in County Fermanagh.
Emergency services were sent at about 16:00 GMT on Friday after the pilot put out a distress signal, the Belfast Coastguard said.
The Irish Coastguard helicopter was deployed along with two lifeboats.
The pilot managed to land on the water's surface near the shore at Derryvore, near Teemore. The two men on board were not injured.
Warning light
Belfast Coastguard watch manager Jude McNeice said when the lifeboats and helicopter were deployed, they did not know where the aircraft was going to land.
"We then received a 999 call from a member of the public who had seen it land and who also saw two persons on board swim safely to shore," she said.
The pilot was alerted to the danger when an oil pressure warning light came on, indicating the aircraft's engine had lost power.
When he realised there were no fields large enough to land in, he decided to ditch the aircraft in the lake. It landed 30 metres from shore, and the two men had to escape through a window as the doors would not open, before swimming to safety.
The aircraft is now submerged in the water. An air accident investigation will take place in the coming days.