Chicken thief Michael Scott drops sentence bid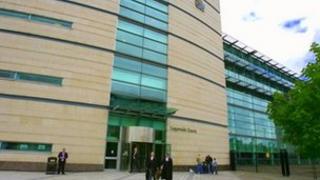 A chicken thief who claimed he was in a movie has failed in an attempt to have his nine-month jail sentence reduced.
Michael Scott lodged an appeal against the prison term imposed on him for a catalogue of offences, including an unruly outburst in hospital.
But he withdrew the challenge on Friday after being warned that the sentence could be increased.
The 28-year-old, of no fixed address, has amassed a criminal record with more than 150 previous convictions.
Earlier this month, he was dealt with for charges of common assault, criminal damage, assault on police, disorderly behaviour and the theft of 16 packs of chicken.
He was arrested following an incident at a Spar filling station on Belfast's Ravenhill Road on 20 October.
After being challenged he threw potted plants at a car before banging his head against a stanchion.
He was taken to the Ulster Hospital in Dundonald for treatment to his head injuries, only to become disorderly and abusive to staff.
Damage was caused to a hospital floor and work benches.
'I'm in a movie'
A judge at Belfast Magistrates' Court imposed a five-month sentence for the chicken theft and lesser, concurrent terms for the assaults, criminal damage and disorderly behaviour.
A further four months was added by the activation of a previous suspended sentence.
As he left the dock on that occasion he shouted: "It's not my fault, I'm in a movie."
Scott then lodged an appeal against his sentence which went before Belfast County Court on Friday.
But a judge affirmed the order after his warning about potentially imposing a longer term was considered.