Charges against union flag protester Jamie Bryson withdrawn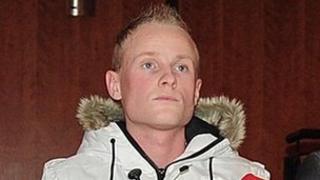 Incitement charges brought against high-profile union flag protestor Jamie Bryson have been withdrawn.
Prosecutors confirmed they were no longer proceeding with the two most serious allegations he was facing.
Mr Bryson, who is still accused of taking part in unlawful processions and obstructing traffic, now wants a ban on making public speeches lifted.
His barrister told Belfast Magistrates' Court there was no longer any need for the prohibition.
Mr Bryson, 23, from Rosepark, Donaghadee, County Down, could have faced two separate trials over his alleged involvement in illegal demonstrations surrounding the decision to restrict the flying of the union flag at Belfast City Hall.
The two most serious charges against him involved claims that he encouraged or assisted offences by addressing public gatherings.
Those alleged offences, under the Serious Crime Act, would have been dealt with in the Crown Court where heavier sentences could be imposed on conviction.
But it was confirmed on Friday that both of these charges have been withdrawn.
Mr Bryson has been left facing four counts of participating in an un-notified public procession and obstructing traffic on east Belfast's Newtownards Road in January.
With those charges to be dealt with by the Magistrates' Court, he entered not guilty pleas on Friday.
His barrister also sought to vary a bail condition that prevents Mr Bryson from talking to the media or making public speeches.
He contended that the withdrawal of the incitement charges meant the ban was unnecessary.
District judge Fiona Bagnall adjourned the application for police to make any representations next week.