Options for Shackleton Barracks, Ballykelly, explored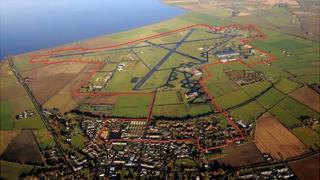 Estate agents have been asked by the Northern Ireland Executive to explore future options for the former Shackleton Barracks at Ballykelly.
BTWShiells said "expressions of interest" in the 720-acre site are expected from local and international companies or developers.
The Army left the County Londonderry base in 2008.
Three years later it was given for free to the executive by the Ministry of Defence.
At that time there had been an attempt to sell the site but none of the bids was said to be satisfactory.
The Office of the First Minister and Deputy First Minister (OFMDFM) said: "This is not a new decision to sell the site.
"We believe it would be useful to determine the level of interest and potential ideas and uses for the site through a soft market testing exercise."
The site contains a range of office buildings, hangars and accommodation blocks.
'Rare opportunity'
Between now and next January, the estate agents said interest will be sought from parties wishing to use all or part of the site on a short, medium or long-term basis.
"It is rare a property of this nature is offered to the market," said Stuart Draffin of BTWShiells.
He said it could be used by sectors as diverse as agriculture, aviation, manufacturing or energy.
One of the area's MLAs, John Dallat of the SDLP, said the move had come as a surprise and without consultation.
"There is real concern the site will be 'asset-stripped' of the best sections while the remainder is not utilised," he said.
The Department of Agriculture and Rural Development said the move did not change its plans to relocate its headquarters to the site.
"The soft market testing of the Shackleton site takes into account the commitment of DARD to use approximately 10 acres of the site to accommodate its new headquarters," it said.
Shackleton Barracks was an airfield during World War Two and remained a Royal Air Force station until 1971 when it was handed over to the Army.