Enterprise minister announces NI Tourist Board review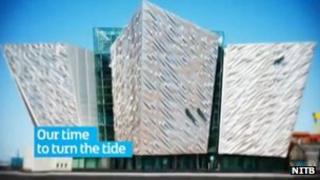 Enterprise Minister Arlene Foster has announced a review to examine whether the Northern Ireland Tourist Board (NITB) is "fit for purpose".
It is expected to be completed by the end of March.
A year ago, Mrs Foster told the DUP conference she was going to order the move, believing there needed to be greater alignment between the board and the jobs agency Invest NI.
The NI Executive wants tourism to become a £1bn industry by 2020.
"Much has been achieved in the last two years. However, we cannot be complacent," said Mrs Foster.
"Now is an opportune time to undertake a review and consider future plans.
"The review will examine current structures to ensure they are fit for purpose and the optimum necessary to deliver our tourism targets.
"It will consider whether current NITB and Invest NI arrangements are sufficient as well as ensuring effective business support to the industry."
The NITB is responsible for marketing and developing Northern Ireland as a destination to tourists from within the region and from the Republic of Ireland.
Tourism Ireland, which was set up as a result of the Good Friday Agreement, markets the island as a whole worldwide.