Russell Brand visits loyalist protest camp at Twaddell Avenue, Belfast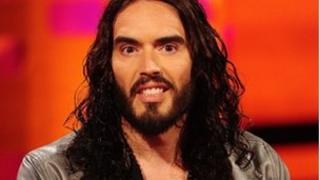 On Wednesday evening, social media were buzzing with rumours that the comedian Russell Brand had visited a loyalist protest camp in north Belfast.
It has been confirmed to BBC News NI the visit did take place but no-one on Brand's team wished to comment.
The visit was organised by Nobel Peace Prize winner Mairead Corrigan Maguire.
Loyalists have been protesting at Twaddell Avenue since July, after a decision to restrict an Orange Order parade.
Brand and Ms Corrigan Maguire both declined interview requests as they say it was a private occasion.
He was appearing at the Waterfront Hall in Belfast as part of a tour.
Brand's visit to the protest camp did not feature in Wednesday night's show.
'Positive discussion'
Gerald Solinas, who is a member of the PR committee for the camp, told BBC News NI that Brand turned up to the camp unannounced.
"Two ladies and a gentlemen were at the camp when Russell Brand arrived," he said.
"He said he wanted to see a bit of Belfast and wanted to find out what they camp was all about."
Mr Solinas said the camp members appreciated the visit and hoped it would generate "positive discussion and debate".
"The ladies were very impressed with him. He even gave them a kiss on the cheek, I think they were a bit star-struck."
Robert, who was one of the protesters at the camp when the comedian arrived, said he "never expected anyone like that to visit the camp".
"Yesterday afternoon some girl came up to the gate and said Russell Brand was here and he wanted to have a look around the camp. I had to have a think about who that was," he said.
"When I came out of the caravan, he was standing talking to a crowd of people who had gathered.
"He asked what it was all about and then didn't really say anything. I suppose he can't really take sides. He asked if we expected to be here long and we told him we hoped to be back up the road by Christmas."
Robert said the door of the camp was "open for anyone who wants to visit - if they want to come up and talk to us it doesn't matter who they are or where they are from".
'Such a gentleman'
And the woman who got the kiss on the cheek told BBC News NI that she was "shocked" when he walked into the camp.
"I thought it was a joke, I thought someone was winding us up when they said he wanted to come in," she said.
"He was such a gentleman. I got a kiss on the cheek and I thought that was great."
The comedian and film star has recently appeared on the BBC's Newsnight programme and told Jeremy Paxman that he had never voted.
He has also guest-edited a special, revolution-themed edition of the New Statesman political magazine.
Since July, Twaddell Avenue has been the focus for nightly loyalist parades and protests against the Parades Commission's decision to prevent Orange lodges walking along a section of the Crumlin Road that separates loyalist and nationalist communities.
The protesters set up a camp in Twaddell Avenue after the parade was halted on 12 July.
Ms Corrigan Maguire co-founded Women for Peace, which later became the Community for Peace People, along with fellow Belfast woman Betty Williams.
The two women were awarded the Nobel Peace Prize in 1976 for their efforts in trying to encourage a peaceful resolution to the Troubles in Northern Ireland.