Nelson McCausland 'asked for change to letter' about meeting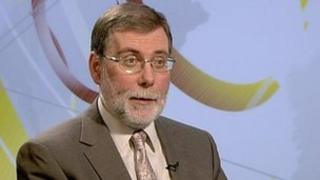 A senior civil servant has revealed that he was told to change a letter to a Northern Ireland Assembly committee by a minister's private office.
Michael Sands said he drafted a letter about a meeting held on 16 April 2012.
Nelson McCausland's private office then asked for a reference to a firm called Turkingtons to be changed to the Glass and Glazing Federation and another company called Fusion 21.
Questioned by committee members, Mr Sands said the change was inaccurate.
The social development committee is investigating whether or not the minister misled the committee over a meeting he held with Turkington Windows on 16 April 2012. This follows an investigation by a BBC Spotlight programme.
At the start of the hearing, Traditional Unionist Voice MLA Jim Allister declared a interest by revealing that when he was the DUP's European candidate in 2004, Turkingtons supplied the party with vans for use in the election.
The opening session concentrated on a letter the minister sent to the committee after it asked on whose advice he had decided to suspend a major double glazing contract with the Housing Executive.
The minister wrote back saying his decision followed a meeting with the Glass and Glazing Federation and Fusion 21, a social enterprise body based in Merseyside.
However, two senior Turkingtons officials, including the managing director Jim McKeag, said it was clear they were there as representatives of the company, and not the federation of which Turkingtons is a member.
The DUP's Trevor Clarke picked up on the point that in its letter to the minister requesting the meeting, Turkingtons mentioned it was a member of the Glass and Glazing Federation.
Mr Clarke asked if this could have led someone to construe that the company was therefore representing the federation.
Mr McKeag responded: "I don't see how they could."
A Housing Executive official, Dr John McPeake, who had also attended the meeting, said the first time he had heard any suggestion the meeting had involved the Glass and Glazing Federation was when the minister had made a statement to the assembly.
Asked if that had come as a surprise he replied: "Yes."
The minister is expected to appear before the committee on 12 December.