Maze prison building visits approved by OFMDFM before row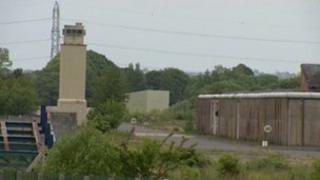 Almost 100 visits to the H-Blocks and other prison buildings at the Maze were approved earlier this year by Northern Ireland's first and deputy first ministers, before their public row over a planned peace centre on the site.
Since the DUP's decision in August to put the centre on hold, all public access to the prison buildings on the site has been ended.
The Office of the First and Deputy First Ministers said approval has been given over the past five years for 443 visits to the buildings.
Ninety-seven of those visits occurred between January and July this year, before First Minister Peter Robinson put the planned European Union-funded peace centre on hold.
The figures were revealed in response to a freedom of information request by the BBC.
Among the buildings still standing at the 360-acre site near Lisburn in County Antrim are a single H-Block where paramilitaries were held, the hospital where Bobby Sands and other republican hunger strikers died, and the prison chapel.
Groups who visited the buildings during the last five years included former loyalist and republican prisoners, ex-prison officers, academics, potential investors, documentary makers, political parties, women's groups, ex-military and fire and rescue personnel and European Commission officials.
The Maze housed paramilitary prisoners during the Troubles from 1971-2000. Ten republican prisoners died on hunger strike there.
Over the years, the scheme to redevelop the former prison site has been controversial.