Andrew Lorimer's family 'disgusted' by killers' jail sentences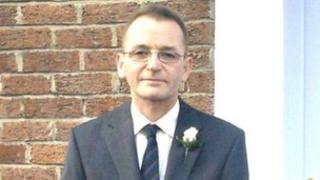 The family of a man who was beaten to death with a hammer have said they are "absolutely disgusted'' at the sentences handed down to his killers.
Andrew Lorimer was found dead in his flat in Lurgan, County Armagh, last year. Two months ago, three Lurgan men pleaded guilty to his manslaughter.
On Tuesday, two of his killers, Christopher Wright and Richard Chester, were each jailed for five years.
A third man, 20-year-old James Jordan, was jailed for four years.
Mr Lorimer's battered body was found in his Portlec Place flat in February 2012.
The discovery was made by a burglar who, coincidentally, had broken into the property two days after the three men had carried out the attack.
Sentencing the trio, the judge at Belfast Crown Court said that Mr Lorimer had been left to crawl around in his flat for two days before finally "succumbing'' to his extensive injuries.
He told the three men they would serve their prison terms in full, without remission, to be followed by equal terms on supervised licensed parole.
The judge added that they had carried out a "ferocious, sustained and brutal attack using fists, kicks and a hammer on Mr Lorimer, who was much loved and missed by his family, friends and work colleagues''.
'No justice'
Later outside the court, Mr Lorimer's older brother, Philip, said that the jail terms "were not long enough''.
"I am absolutely disgusted at these sentences,'' he said.
"Last Friday, we left this court with the impression that he (the judge) was going to give them ten years in prison. That's what we thought was going to happen today.
"But this sentence today just proves there is no justice in this world for what these people did to my brother.
"I read in the paper today about a man who got seven years for scarring a policeman. Five years in prison for Wright and Chester and four years in prison for Jordan for killing my younger brother is just not long enough.
"How is that justice for taking the life of a defenceless and harmless man?" he said.
In his reserved judgement, the judge said that about 22:40 GMT on 3 February, 2012, police received a 999 call, in which the caller stated a man had been severely beaten in Portlec Place and claimed that paramilitaries had been involved.
Initial search
The judge said this was an attempt by the defendants to make it "look like a paramilitary attack and cover their tracks''.
He said that police carried out an initial search of the area but were unable to find anyone.
"Had the defendants been more specific and mentioned the flats, Mr Lorimer would have been found,'' the judge said.
However, two days later the ambulance service received a call saying a man was "badly beaten'' in 5a Portlec Place.
This call was made on behalf of burglar Richard McVeigh, who was ransacking the flat when he found Mr Lorimer's remains on his bed.
McVeigh was later convicted of burgling Mr Lorimer's home.
Police and paramedics attended the scene and found the body.
'Blunt force'
A post-mortem examination on the victim revealed that he had sustained a large number of blows to his body, including nine fractured ribs, four of which had broken in two.
The victim, a father of two, also suffered a punctured and collapsed lung, which eventually led to his death.
A pathologist said that the Mr Lorimer had sustained "blunt force trauma'' to his body, possibly from feet, kicks and a hammer.
Wright, of Mount Zion House, Chester, of no fixed address, and Jordan, of Princess Street, all in Lurgan, were later arrested and questioned by police.
They claimed that they were waiting for McVeigh at the flats when Mr Lorimer came out and invited them in.
They claimed he had put on a pornographic film on television and then touched Jordan in a sexual manner.
It was then that Wright punched Mr Lorimer in the face and Chester brought a hammer in from the kitchen, which was then used to repeatedly assault the victim.
However, the judge said that, according to the prosecution, there was "no foundation'' to their claims that Mr Lorimer had homosexual tendencies and branded their claims as "mendacious''.
'Totally destroyed'
The judge added that he agreed with the prosecution case that "this was an attempt to blacken Mr Lorimer's character and he is not here to defend himself".
Speaking outside the court Mr Lorimer's tearful sister-in-law, Julie, who is married to his brother David, echoed Philip Lorimer's views, saying the family felt "badly let down'' by the court.
"Those three dragged Andrew's name through the mud. He was such a lovely, harmless defenceless man,'' she said.
"His mother says he was such an inoffensive person that he wouldn't even go out in the rain. Andrew is not coming back. It is not as if he has gone on holiday. We will never see him again.
"This sentence today has totally destroyed us. We will never get over this," Mrs Lorimer added.