Flags on Belfast bonfires 'still a major problem'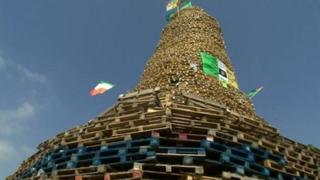 The burning of flags on bonfires in Belfast is still a major problem, an internal council report suggests.
Belfast City Council has spent £200,000 this year on a scheme to reduce problems associated with bonfires.
Community groups who received money as part of the programme agreed to "prevent the burning of any flags or symbols on bonfires".
Despite this, almost half the sites in loyalist areas burnt tricolours or other nationalist emblems.
That is according to an independent evaluation of the council's "cultural networks" programme.
It has been running since 2005, and provides money to community groups in areas in which a bonfire is erected in July or during the republican internment commemorations in August.
In 2013, 45 groups in loyalist or unionist areas and 12 groups in republican areas each received grants of up to £1,500.
Other associated costs brought the total funding for the project to £200,000 for the year.
The money is provided to encourage groups to run environmentally friendly bonfires and to run associated community events.
In return, they have to participate in a programme that obliges them to form a community committee, and to attend meetings and training courses.
'Positive influence'
They must also not collect bonfire materials too early, keep the sites tidy, and not burn tyres or other toxic materials.
The groups must also agree not to display "offensive flags and emblems" at bonfire sites and "use their positive influence and endeavour to prevent the burning of any flags or symbols on bonfires".
However, the evaluation said that "at least half of participating sites... burnt flags (or) emblems on their bonfires in the summer of 2012", and in 2013 that number had dropped only minimally.
The report's authors estimated that 17 of the 37 loyalist or unionist groups they studied still burnt "tricolours or nationalist paraphernalia" on their bonfire in 2013.
The report did not specify if there were any instances of flags being burnt on republican bonfires associated with the anniversary of internment.
"The burning of flags on top of bonfires remains a relatively widespread practice at participating sites on the programme," the report concluded.
This was despite workshops being offered to adults and young people on cultural issues such as the burning of flags and emblems.
The report said attendance at these workshops was "much more limited than it was hoped".
For instance, of 13 workshops organised, five had no local participation.
Another problem identified by the evaluator was that groups that did not comply with the programme's regulations about attending meetings were not penalised.
They got the same money as groups who did comply.
The report said the "unwillingness to penalise groups who do not abide by the guidelines... undermines the whole process".
There were, however, positive outcomes from the programme as well.
The evaluation found there were fewer calls to emergency services such as fire and police, fewer tyres and toxic materials burnt, and less anti-social behaviour at sites funded by the programme.
In fact, one loyalist group in south Belfast invited local Catholic families to a family fun day at their bonfire, but the report does not say what area this was in.
Of the yearly funding for the project, £150,000 comes from the European Union's Peace III programme, and £50,000 from Belfast City Council.
This funding is due to end next month, and no funding for the programme in 2014 is in place yet.