Judgement reserved in John Proctor murder trial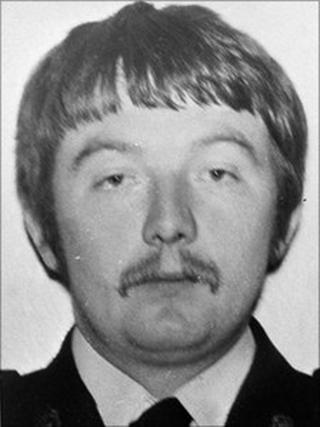 A judge has told the trial of a man accused of murdering an RUC reservist in 1981 he will give his decision as soon as possible after reviewing the evidence.
John Proctor, 25, was murdered by the IRA outside Magherafelt Hospital after visiting his newborn son.
Seamus Martin Kearney, 57, of Gorteade Road, Maghera, denies murder and possessing an Armalite AR15 rifle.
Judgement was reserved in the non-jury trial at Belfast Crown Court.
'Bad character'
Mr Kearney did not give evidence on his own behalf, despite a warning from the judge that the court may draw an "adverse inference" from his refusal.
Defence lawyers had argued there was no evidence that would allow the court to draw any adverse conclusions.
It is alleged that a cigarette butt found among spent bullet casings after the shooting contained a full DNA profile of Mr Kearney.
The prosecution claimed he was "part of that terrorist group that carried out the attack on Mr Proctor and he is responsible for the murder in joint enterprise".
It alleged that his conviction for a murder attempt on UDR soldiers the following year, using the same rifle, "was evidence of his bad character".
A prosecution lawyer said Mr Kearney's refusal to enter the witness box, despite the forensic evidence, would allow the court to infer he did not have an innocent explanation for his DNA being found on a cigarette butt at the scene.
The prosecution said the accused was the gunman or a getaway driver, but either way he was "part and parcel of that group who carried out the attack".
Alternative explanations
A defence barrister said the court could only draw "proper inferences", and only within the background of all of the evidence.
He said the prosecution had failed in its "ultimate objective to establish" that the cigarette end had been discarded at the time of the shooting, and there was no evidence, forensic or otherwise, that could prove this.
The lawyer said it would be "pure speculation" for the court to conclude that the cigarette butt could not have been there for some significant time before the shooting.
He said there were reasonable alternative explanations for the discarded cigarette being there, even on the prosecution's case, and it would be improper for the court to draw any adverse inference.