Services figures suggest no recovery in first half of year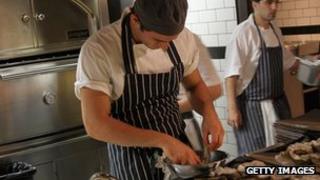 Figures showing a fall in output for the Northern Ireland services sector suggest a recovery did not take place in the first half of the year.
The retail sector in particular has been struggling.
The services sector accounts for two thirds of the NI economy, and it includes things like the civil service, lawyers, accountants, hotels and shops.
Official statistics show output from services shrank by 0.7% in the second quarter of this year.
That was compared to the first quarter of the year.
Although there was an improvement in output compared to the same period in 2012, the boost seen at the beginning of the year has not been carried through between April and June.
There is also an increasing difference between Northern Ireland and the rest of the UK.
This is the sixth period of decline reported by the Northern Ireland Index in the past eight quarters, while the rest of the UK has experienced five periods of growth in the same time period.
The details show that business services and the finance sector actually saw a growth in output, but the overall figure has been pulled down by a poor performance for one of the most important areas in the Northern Ireland economy - retail.
Motor repairs and tourism fell by 2.7% and transport, storage, and the IT sector saw a decrease in output of 4.1%.
Recent business surveys, like the Ulster Bank PMI suggest that a recovery began during the summer months, but we will have to wait until the new year until the official service sector figures for the summer are released.