Smithwick Tribunal: Bob Buchanan's son asks if tribunal was worth it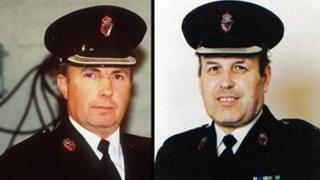 The son of an RUC officer shot dead by the IRA almost 25 years ago has said his family questions whether setting up a tribunal to investigate his death has been worth it.
Supt Bob Buchanan, and his colleague, Ch Supt Harry Breen, were murdered by the IRA in south Armagh in 1989.
The Smithwick Tribunal is investigating if there was garda collusion in their deaths.
It is due to report on its findings soon.
William Buchanan said he was not sure how he will feel when the tribunal finally issues its findings, but said there were questions within the family as to whether or not the process had been worth it.
"We're open and honest, there's a side of me thinking I could do without all of this. Family, particularly the wider family, would basically say, where is this going to go, what are we going to get out of it, is it worth it?", he said.
"All those questions come. Yes, there's a side that says I don't really need to be going through this process. But it's there and we're dealing with it, as best we can."
He said that at the beginning of the process both he and his family thought there may actually have been a political reason behind the setting up of the inquiry.
"Initially, that was our view, that there was lobbying on both sides, looking for various public inquiries into certain events, which are well documented. We didn't ask for that. Perhaps the view was, it's a political arena, political agenda, but we moved on, we accepted it," he said.
Impact
"We're now further down the line, but certainly we didn't go out and lobby for it, but we accepted it once it got to the point that it was going to happen and that was the two governments decided that."
Mr Buchanan said being constantly reminded of his father's death had taken its toll.
The two officers, who were the most senior police members killed during the Troubles, travelled across the border to a meeting with Irish police in Dundalk in March 1989.
On the way back from that meeting, the two men were ambushed in by an IRA gang.
There were rumours at the time that a member of the gardai in Dundalk had told the IRA about the officers' visit to the station, but these were dismissed by both the RUC and gardai.
In 2003, a Canadian judge, Peter Cory, recommended that a tribunal should be set up to examine whether or not there was any collusion in the murders.
The Smithwick Tribunal has heard from former high level RUC and garda officers, a former government minister and British agents and former IRA members.
The findings will be made public in the next four to six weeks.