Trauma of Northern Ireland's Filipino community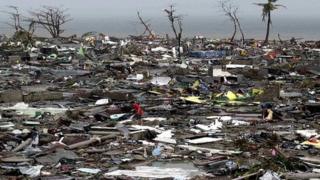 Filipinos living in Northern Ireland have been making desperate attempts to contact their families back home.
A special mass has been organised in west Belfast to pray for people in the Philippines who have died or left devastated by Typhoon Haiyan.
St Anne's Cathedral in Belfast has already donated money for relief, while Trocaire has agreed a collection at other churches this weekend.
Thousands of people have been killed by the typhoon.
The UN says more than 11 million people are believed to have been affected and some 673,000 displaced.
Jonah Atos is a theatre nurse at Altnagelvin Hospital who has worked in Northern Ireland for 12 years.
With phone lines and online connections down, more than 30 members of her family are still unaccounted for.
"Whenever I saw the images, it's just the whole destruction, it just hit me how intense it is," she said.
"My mother just texted me and she said she's so helpless, they don't know if they're still alive or not.
"She's has no contact, there's no electric, no Facebook, there's nothing, no phone.
"I work as a nurse, I felt like I had an obligation to help there, because there's people with injuries, but I'm just stuck here."
Heart-breaking
The build-up to Christmas starts early in the Philippines and most Filipinos living in Northern Ireland replicate that.
Geraldine Perez said watching the television pictures left her struggling for words.
"It was really heart-breaking. The first time I saw it I was crying, it's like (being) helpless," she said.
"I feel really sorry for my fellow Filipinos back home and really worry, because we have some relatives and as to now we haven't had any news from them.
"I hope they're all OK."
The next few days will be critical for families trying to make contact.
But it will be months and years before life can get back to anything like normality in the Philippines.
Traumatic experience
Meanwhile, Brian Longridge, who is originally from the Shankill area of Belfast, but now lives in the Philippines, survived the storm
He and is family fled their home just before the typhoon struck and took refuge in a nearby hotel on higher ground.
Speaking to Radio Ulster on Monday, he said watching the storm take hold from the hotel lobby was a "traumatic" experience for him, his Dutch wife Mirte and their two teenage daughters.
"All of a sudden we felt the hotel beginning to shake and I was looking at my kids and I was thinking we better do something here that's different.
"At least if we can go close to an exit we'll be able to get out of here."
They left the room and went down to the hotel lobby to be nearer an escape route.
"Already they had put boards up over the doors and some of the windows and when the storm hit you could look out of the lobby and you would see these trees bending like rubber, they were just bending back and forward.
"There were noises, the water started leaking from the elevator and the guys were holding the boards up at the doors of the hotel because the wind was strong.
"The windows started vibrating really, really loudly and people started running. It was panic, absolute mayhem."