Roseann Mallon: Murder scene 'not filmed by Army'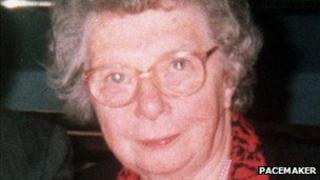 Covert Army surveillance equipment was incapable of filming part of the house where a pensioner was shot dead almost 20 years ago, an inquest has heard.
Roseann Mallon, 76, was killed by UVF gunmen on 8 May, 1994.
She died when loyalist paramilitaries opened fire on her sister-in-law's house near Dungannon, County Tyrone
A former soldier, who installed the secret camera, said it was trained on engineering works frequented by two of Ms Mallon's nephews.
A barrister for the Ministry of Defence asked Colin Deegan, the former sergeant, if it was possible to see anyone running up the left hand side or front of the house.
He replied: "No."
Mr Deegan, referred to during previous court proceedings as Soldier B, said filming the engineering works had been his priority.
"That was my priority. Yes," he said.
Earlier it was revealed that the camera equipment, worth £19,988, could only operate during the day and would have been affected by bad weather, poor light or wildlife.
It was buried in the ground, concealed with birds nest materials and grass sods.
Mr Deegan said: "The capability of the camera was really reduced by the slightest bit of rain, or if it was overcast (it) reduces the camera - but we have to sacrifice that to conceal it."
The court also heard that the camera was capable of panning right and left, tilting up and down and was able to follow a vehicle from the target property for a distance along the Cullenrammer Road.
It was not recording from 21:28 BST on the night of the murder, which happened just before midnight.
Earlier in the day, it was switched off because of adverse weather conditions, but did record for a brief period at about 18:30 BST.
The murder of Roseanne Mallon is controversial because of allegations that the security forces colluded with loyalist paramilitaries in the shooting.
After her death, it emerged that the Army had been conducting a surveillance operation on a nearby house owned by Mrs Mallon's nephew.
The case is one of 29 controversial Troubles-related inquests that have been put on hold for a number of years.