Andor Technology takeover offer puts company value at £166m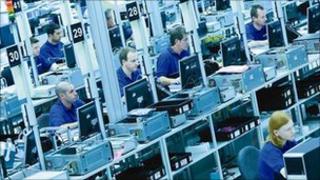 Andor Technology, the high-tech camera maker based in west Belfast, has had an initial takeover offer from Oxford Instruments.
They have been offered £5 per share, which would value the company at £166m.
Andor said they were not considering the offer in its current form as discussions were still ongoing.
However they described Monday's announcement as "premature and unhelpful in light of ongoing discussions".
Andor said the offer was only made on 8 November and they were not expecting the Oxford-based company to make it public. However, Andor has not rejected the offer.
Oxford Instruments appeared to think the discussions were at a more advanced stage as they "envisage working together with Andor to finalise our due diligence and make a recommended (firm takeover offer) on 2 December.
They were hoping for a response from Andor by Monday 11 November and have since made the offer public while filing their interim results.
Andor began its life as a spin-out company from Queens University Belfast - who still own a significant stake in the company.
The camera maker is now one of only three companies in Northern Ireland to be listed on the stock exchange. Andor employs more than 300 people in 16 offices worldwide. The majority of the workforce is based in Belfast.
Andor said their shareholders would be kept informed of developments and a further announcement would be made as appropriate.