Roseann Mallon inquest: RUC 'bypassed procedures' on surveillance tapes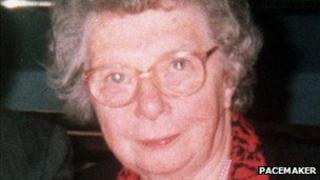 RUC Special Branch officers may have bypassed normal procedures to access Army surveillance tapes that could have recorded the day of Roseann Mallon's murder, an inquest has heard.
A military witness told the inquest that until it was revealed in court he did not know tapes were removed from a secret army post.
"I was not aware tapes were extracted," he said.
Mrs Mallon, 76, was killed by UVF gunmen on 8 May, 1994.
She died when loyalist paramilitaries opened fire on her sister-in-law's house near Dungannon, County Tyrone.
The murder is controversial because of allegations that the security forces colluded with loyalist paramilitaries in the shooting.
After her death, it emerged that the Army had been conducting a surveillance operation on a nearby house owned by Mrs Mallon's nephew.
The case is one of 29 controversial Troubles-related inquests that have been put on hold for a number of years.
Last week it was revealed that surveillance tapes had been wiped.
Request for tapes
A military liaison officer, who would normally have facilitated requests for footage, said he would have been the link between RUC (Royal Ulster Constabulary) Special Branch and soldiers on the ground.
The former Parachute Regiment warrant officer, known only as Soldier A, operated out of a base in Portadown, County Armagh.
"If Special Branch had a task it would come to me," he said.
But he only received a request for tapes from an RUC detective inspector investigating the removal of the military camera two months later, he claimed.
A barrister for the Mallon family said: "If Special Branch want something from the military people who are involved in this operation, is it you they would contact as liaison officer?"
Giving evidence from behind a screen, soldier A replied: "Normally yes. In this instance, no."
The court also heard that undercover soldiers monitoring the camera were hiding out in a post close to the Mallon house. They reported hearing machine gun fire on the night of the murder but were told not to react because there were no military casualties.
Three separate Army regiments - the King's Own Scottish Borderers, the Royal Anglians and the Scots Guards - were involved in the security operation codenamed Op Paucity Two.
The secret camera, which was covered in camouflage and wrapped in Army-type cloth, was only capable of operating during daylight hours and did not record at night or if there was poor visibility.
Switched off
Soldier A said: "It needed to pan and tilt. If you put a thermal imagery in there needed to be ambient light. There was no light in the area. It could have recorded but you would just get a blank screen."
On the day of the murder the camera was switched off at 9.28pm - almost two hours before the fatal shooting - and was not switched back on until 4.31pm the next day.
Ground logbooks written by soldiers stationed at the remote outpost suggest it was because of poor weather, but Soldier A acknowledged it may also have been because there was so much police and Army activity in the area after the fatal shooting.
Also giving evidence to the inquest was a former Army captain, who served with the Scottish Borderers and who was named in court as Soldier T.
He said the request to mount the security operation came from Special Branch officers based in Dungannon and that the police would have retained primacy.
The officer, who was not screened from view, said he carried out reconnaissance of the area from the land and air and decided it was not safe to have soldiers stake out the target.
"It was easier to conceal a camera than it was to conceal four men," he said.
None of Ms Mallon's relatives were in court for the proceedings in Belfast.
The inquest is scheduled to last for two weeks.