Administrator appointed to Northern Ireland property firms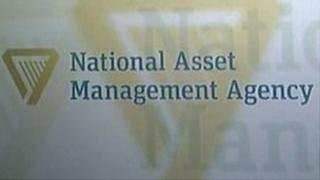 Nama, the Irish government's bad bank, has appointed an administrator to three property firms controlled by the County Down developer Bill Rush.
The firms are R & A Developments, New Road Investments and Candon Developments.
R & A's last set of accounts said that it owns a 10-storey office block on Great Victoria Street in Belfast.
The block once housed the Northern Ireland headquarters of the former Anglo Irish Bank.
Anglo, now renamed IBRC, later moved to other premises in Belfast when it was merged with Irish Nationwide Building Society.
The R & A accounts show that at the end of August 2012 it owed creditors more than £9m and that its liabilities outweighed its assets by more than £1.5m.
Mr Rush is associated with the Bangor-based MAR property group.
However, Companies House records show that he resigned as a director of the main MAR company in March 2013.
None of the MAR companies are affected by the Nama move.