Bombers have direct link to Provisional IRA says Hussey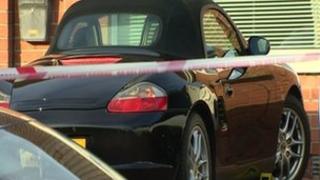 An assembly member has claimed the people who tried to murder a former policeman in Belfast last week have a "direct link" to the Provisional IRA.
The man spotted a bomb under his car when he checked under it at his home in Kingsway Park, near Tullycarnet estate, in the east of the city.
He was about to take his 12-year-old daughter to school.
Ulster Unionist Ross Hussey said it was clear the Provisional IRA "haven't gone away and they are still here".
Those responsible, he added, should "wise up and go away".
Sinn Féin MLA Gerry Kelly said there was "no rhyme, reason or logic" to the attack.
SDLP leader Alaisdair McDonnell said it was "insanity" to think that killing another fellow human being could benefit anyone.
After the attempted attack, which happened last Friday, police said the device bore striking similarities to previous bombs used by dissident republicans and that was now a major line of inquiry.
A senior PSNI officer said the man targeted had left the police force some years ago.
The police said the level of threat posed by dissidents remained severe.