Tassagh fire deaths: Trial hears about horrific injuries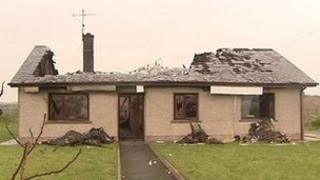 A murder trial has been hearing details of the horrific injuries suffered by a woman whose County Armagh home was set on fire.
Thomas O'Hare and Lisa McClatchey, 21, died after their house near Tassagh was set alight in November 2006.
Four brothers, Christopher, Martin, Niall and Stephen Smith, are on trial for their murders.
Thomas O'Hare's sister, Elizabeth Lavery, said Lisa told her masked men had "beat us and put us on fire".
Ms Lavery wept at Armagh Crown Court as she recalled arriving at the scene.
Questioned about the accuracy of her memory in relation to what Lisa had said, Ms Lavery said: "I will remember it until the day I die."
She described how she had accompanied Thomas O'Hare in the ambulance, struggling to keep her emotions in check as she recalled how, at one point, she thought her brother had died on the journey to hospital.
Mr O'Hare was beaten up before the house was doused in petrol and set alight. He died of his injuries days later.
Sheet
Twenty-one-year-old Lisa was also burned beyond the point of possible recovery and died in hospital later in the week of the attack.
A police officer also gave evidence about events on that night.
When he arrived at the scene, Lisa McClatchey was sitting in a neighbour's house with a sheet over her head. She remained under the sheet while she spoke to him.
The police officer said what struck him most had been how calm Lisa had been.
He said she had been "slightly out of breath" but coherent and had told him she could remember everything.
She told him "five or six masked men" had broken into the house, adding: "They beat Thomas and then poured petrol over the house and us".
The police officer admitted there were questions he later wished he had asked her, but said he simply hadn't realised the severity of her injuries.
"I didn't believe for one moment that this would be the last time she would give an account of this," he said.
Under cross-examination, the constable agreed that whether or not petrol was poured over Lisa McClatchey was a critical point in the trial.
He was asked why he had not recorded in his notebook his assertion that she had told him it had been and it was suggested to him that it was only after a later conversation with an ambulance driver that he added this quote to his account.
The constable rejected this suggestion and insisted that his account of his conversation with Lisa McClatchey was an accurate one.
The case continues.