Band beats the bodhrán for Belfast in Royal Albert Hall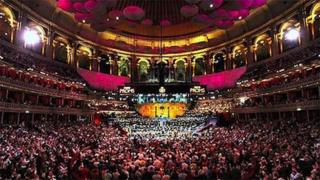 It's trad but, in the world of British proms and the Royal Albert Hall, it's not so very traditional.
A group of students from Belfast Royal Academy is tuning up for the UK Schools Prom to the beat of a different drum... the Irish bodhrán.
The 18-strong group playing Irish music is made up of pupils and past pupils from the school.
They are aged between 15 and 21 and play guitars, violins, flutes, tin whistles and bodhráns.
Their's is the only band from Northern Ireland to perform at the event which will be staged this week at the seat of the real proms, the Royal Albert Hall.
The invitation was a real surprise.
"As we were preparing for our spring concert, we decided to record a rehearsal and send it in as a recorded entry. We promptly forgot about it," said flute player, Stefan Tucker, 19.
"We were flabbergasted when we found out that we were through," he said.
"We never thought it would be us. Although it will be daunting to play the Royal Albert Hall, we just want to play our best so we're practising hard for this once-in-a-lifetime experience."
Dr Catherine Scully, a maths teacher at the school has been running the traditional group for almost 19 years. It is, she said, her "wee oasis of fun" and offers a welcome break from algebra.
"I'm absolutely delighted because it's the first time that we have ever taken part in the Schools Prom," she said.
"Our size is ridiculously large for a traditional music group, but that makes our sound all the more beautiful."
The event takes place across three nights beginning on Monday 11 November. In all, 3,000 musicians are taking part.
Belfast Royal Academy will perform on Tuesday on an evening of music dedicated to the theme of transformation.
Irish traditional music is "transforming" into a popular form of music again, Dr Scully said.
"I've seen the group evolve over the years and for me, transformation means bringing a group of different musicians together," she said.
"While traditional music can be complicated, it is suited to all levels of expertise. You don't have to be an absolute aficionado. It is a very accessible form of music and is only increasing in popularity."
The Schools Prom is organised by Music For Youth.
Chief executive Judith Webster said: "This unique showcase event celebrates the amazing achievements of these young musicians, and those teachers and music leaders who have helped them on the way."
Dr Scully said this will be the only chance for most of the group to perform in such a prestigious music hall, because while they all really enjoy playing, many of them do not intend to pursue a career in music.
In fact most of the musicians are scientists at heart: "Oddly most of the group are more interested in physics, there are a lot of physicists in the room!" she said.