David Cameron and Enda Kenny to visit Messines WW1 memorial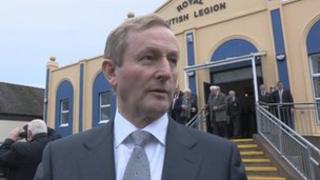 Prime Minister David Cameron and the Irish Prime Minister Enda Kenny will visit a First World War memorial in Belgium next month.
Mr Kenny said the visit to Messines and the Menin Gate had been planned since the Queen's visit to Dublin in 2011.
He said the visit will be a recognition of the role of Irish soldiers in the Great War.
The memorial site at Messines is also known as the Irish Peace Park or the Irish Peace Tower.
It is dedicated to all the soldiers of Ireland who died, were wounded or missing in the First World War.
Mr Kenny was speaking in Enniskillen on Remembrance Sunday, after laying a wreath of green laurels at the town's war memorial for the second year in a row.
He said: "When Queen Elizabeth visited the Republic, the first visit by a reigning monarch in a hundred years, she closed a circle of history and recognised in so many deep ways the story of 50,000 soldiers from the Republic who fought with the Allies in World War One.
Standing stones
"The prime minister and I had attempted to do this for the last two years but European Council meetings wouldn't allow that, so we're going to do it in December."
The tower at Messines was built as a symbol of reconciliation by An All-Ireland Journey of Reconciliation Trust, and was constructed using stones from a demolished workhouse in Mullingar, County Westmeath.
Around the 110ft (33.5m) tower are standing stones with the numbers wounded, killed or missing from the 36th Ulster, 16th Irish and 10th Irish Divisions.
From the 36th Ulster Division 32,186 were killed, wounded or missing; 9,363 and 28,398 were killed, wounded or missing from the 10th and 16th Irish Divisions respectively.
Part of the design inside the tower means it is lit up by the sun only on the 11th hour of the 11th day of the 11th month, the time at which the Armistice was declared and the guns fell silent on the Western Front after four years of fighting.
The peace park was officially opened on 11 November 1998 by the then President of Ireland, Mary McAleese. The Queen also attended the ceremony.