Gun pointed to man's head in Lisburn attempted robbery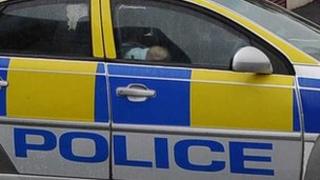 A man had a gun pointed to his head during an attempted robbery in Lisburn, County Antrim.
He had answered a call at a house in Hillview Avenue from a man claiming to be from an electricity company.
When the door was opened the caller pointed a gun to the male occupant's head and demanded money.
The suspect was joined at the door by a second man, but the occupant was able to escape from the back of the house and raise the alarm.
The suspects and a third man, who is believed to have remained in a vehicle, then fled the scene in a silver-coloured Chrysler people carrier.
The incident happened on Friday at around 16:30 GMT, and the Chrysler car was reported on fire in Priory Close at around 20:00 GMT.
A black car was reported as speeding away from Priory Close a short time later.
Police have appealed for anyone with information or who noticed any suspicious activity to contact them.