Enda Kenny lays wreath in Enniskillen remembrance event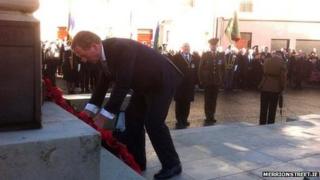 Irish Prime Minister Enda Kenny has laid a wreath of green laurels at the war memorial in Enniskillen, County Fermanagh, to mark Remembrance Sunday.
The war memorial is the site of the 1987 IRA bomb which killed 11 people.
First Minister Peter Robinson was amongst those who laid wreaths at the Cenotaph in Belfast City Hall.
The official Act of Remembrance and laying of wreaths got under way at 11:00 GMT. A procession from city hall took place before it.
Irish Deputy Prime Minister Eamon Gilmore was also at the Belfast ceremony, while others who laid wreaths there included Deputy Lord Mayor Christopher Stalford and Lord Lieutenant of Belfast Dame Mary Peters.
Speaking after the ceremony, Mr Gilmore said: "Over 200,000 people from all over the island of Ireland were in the First World War and many of them lost their lives.
"I think it's important that all of us, from all parts of the island, including the Irish government, commemorate those who died in the wars."
Secretary of State Theresa Villiers laid a wreath in Enniskillen.
Services took place across the UK to remember those killed in the two world wars and other conflicts.
More than 10,000 military veterans and civilians marched past the Cenotaph in London.
For the first time, their number included representatives of a World War Two unit known as "Churchill's Secret Army".
The Queen led the nation's commemorations from Whitehall.
A two-minute silence was observed by military veterans and senior officers, political and religious leaders and Commonwealth dignitaries.